Black's Grove Mountain Biking
Black's Grove is a city park  about 3 miles west of Wadena MN.  Black's Grove park contains

over 7 miles of twisty tight single track mountain bike trails,  maintained by local mountain bikers from around the area.
That's right not only are there mountain bikers in central rural Minnesota, but we meet most Wednesday nights provided the trails aren't covered with snow and the temperature is above 32F.    We meet at the Black's Grove parking lot about 6:00 pm – 6:30pm spring through fall.  We welcome bikers of all skill levels, even if you are just started singletrack mountain biking our group has a number of seasoned bikers to show you the ropes.  One last this we encourage you to bring a helmet, you will know why when you see the trails.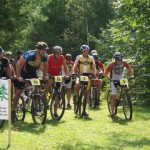 The Wadena Lions host the River Crossings Race at Black's Grove in early June.  This is not a MNMBS race, but it's still a fun competition to come out to the park race along side other bikers.  This summers upcoming race will be the second annual River Crossings Race and we hope we can increase our entries from last year.
Last but not least we welcome donations with open arms.  Click on the donations section to either donate by either PayPal or the the old USPS way.